---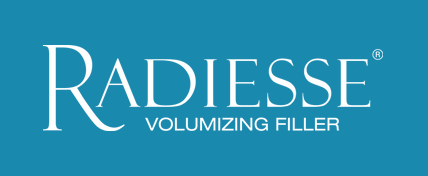 ---
What is Radiesse?
Radiesse is a cosmetic Dermal Filler, launched in 2000 in the US.
Medical studies have shown that Radiesse is a safe, longer lasting treatment. It tends to gradually breakdown after 12 months.
Radiesse was designed for the correction of large and small soft tissue creases (lines and wrinkles) around the nose and mouth restoring a younger fresher appearance. It can also be used for facial contouring/shaping such as cheek enhancement, chin and nose augmentation.
---
Whats is Radiesse made from? 
Radiesse is made up of synthetic Calcium Hydroxylapatite (CaHA) microspheres (30%) suspended in a gel carrier (70%). The carrier gel is an aqueous gel that contains sodium carboxymethyl cellulose (CMC), glycerin and high purity water.
---
How does it work? 
The CaHA spheres are composed of calcium and phosphate ions which occur naturally in human tissue. The CaHA particles form a 'scaffold' which your own tissue grows new collagen cells around.

The gel carrier dissolves within a few months and over time. The CaHA stimulates collagen growth as the particles gradually break down.  They are completely metabolised by the body, leaving only new collagen.
---
It is a long lasting, non permanent Dermal Filler with none of the risks associated with permanent implants.
Radiesse does not contain any animal or human derived components and does not require an allergy test.
---
Radiesse is used to treatment:
Nasolabial Folds: Between the nose and mouth
Marionette lines: The so-called "smile lines" in corners of mouth
Radial lip lines: Lines above the upper lip
Depressions and blemishes: Like acne scars
Shallow cheeks: Caused by fat atrophy
Nose and Chin: Correcting indentations, tips, bumps and unevenness
Jaw: Improving the contours of this area
Hand: To reduce the appearance of veins and bones in aged hands
---
Radiesse properties:
FDA approved to safely correct wrinkles and folds around the nose and mouth.
Has a European CE certification mark.
Stimulates your skin to produce new collagen.
You can have a treatment over your lunch hour!
The results of a Radiesse treatment are immediate.
No allergy testing prior to treatment.
---
---
Find out about other Dermal Fillers here.
---