---
Cyspera Intensive System
Cyspera® is a biological depigmenting treatment for hyperpigmentation concerns.
The active ingredient is cysteamine is naturally present in human skin cells. It regulates melanin synthesis in the skin and is a highly effective topical treatment for pigmentation. The new formulation Cyspera Intensive contains 7% Cysteamine.
Hyperpigmentation is a common skin condition in which some areas of the skin become darker in colour than the surrounding skin. Pigmentation occurs when an excess of melanin is produced by melanocytes, the pigment cells, which are moved up to the skin's surface. Hyperpigmentation can be caused by inflammation, hormonal stress, sun damage, or other skin injuries.
Cyspera® is a biological molecule that reduces melanin pigments in human skin. It helps remove brown spots, treats pigmented marks and produces an even and light skin complexion.
Significant depigmenting effectiveness.
Highly biocompatible and well-tolerated.
Non-cytotoxic, non-mutagenic, non-carcinogenic
Superior benefit/risk ratio compared to hydroquinone –and all other alternatives.
Research shows:
It is as effective as Triluma®
Faster onset of action compared to original cyspera
The new Cyspera Intensive is safe for long-term use compared to hydroquinone-based treatment and is without the concerns of Corticosteroid, Retinoic-Acid and Hydroquinone.
It is suitable for darker skin tones that are more prone to hyperpigmentation, especially with excess sun exposure.
---
The New Cyspera Intensive comes in a system to enhance the results: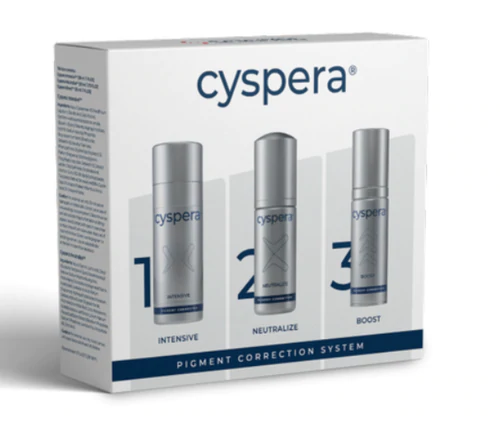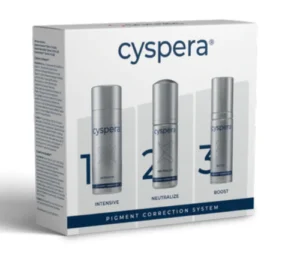 1. Cyspera Intensive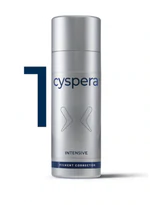 Cyspera Intensive™ is formulated with a cysteamine catalyst complex that delivers a powerful antioxidant activity to improve the appearance of persistent brown patches and dark spots.
Contains Cysteamine with AHA and an Isobionic-Amide which is an anti-inflammatory B3 derivative more potent than niacinamide.
2. Cyspera Neutralize

Cyspera Neutralize™ contains an AHA-amino acid complex that rebalances the epidermis after the application of Cyspera Intensive.
Contains L-Arginine, a mild surfactant to gently removes any residue, and  Lactobionic Acid which is hydrating and also prepares the skin for Cyspera Boost.
3. Cyspera Boost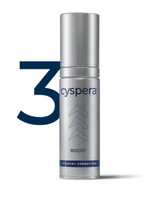 Cyspera Boost™ is formulated with an isobionic-amide complex that works synergistically with Cyspera Intensive™ to even skin tone, improve complexion and deliver a natural and healthy glow.
Contains
Isobionic-Amide, Retinol and an anti-oxidative complex to provide a visual pigment correction effect by and also provides an anti-inflammatory effect to the skin.
---
How to use Cyspera Intensive System
Always apply Cyspera Intensive System on rested (unwashed) skin.
Do not wash the skin before application. If you need to remove make-up before applying wash your face and then wait one hour before application.
It is important for the skin to acclimatise to Cyspera Intensive by limiting initial use to 5 minutes once per day.
After one week, increase to 15 minutes.
If you experience irritation, discontinue use for a few days until your skin recovers, then restart the application for 5 mins
We recommend you use SPF 50 to enhance the results. 
When using the system we recommend you follow this protocol:
Intensive phase:
Use the system once per day, every day, for 16 weeks or until you achieve the effect you want to achieve.
Maintenance phase:
Use the Cyspera Intensive once per day, twice-weekly
---
How to Purchase The Cyspera Intensive System
If you have not used Cypsera Intensive before and would like to purchase it. Please complete the following form and we will arrange a phone consultation to advise you on how to use the product.
Alternatively, after completing the form, you can book a Cyspera Telephone consultation online here.

---
We are unable to publish the price of this item online please contact us by phone on 01606 841255 or email us at cheshirelasers@hotmail.co.uk and we will be happy to help you.
---
---
---
Cyspera is made by Scientis Pharma you can find our more about them and Cyspera Intensive here.