---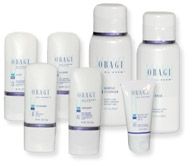 ---
What is The Obagi Nu-Derm System?
The Obagi Nu-Derm System is a prescription-only skincare system, which accelerates skin cell turnover. The system penetrates deep to improve damage in all layers of the skin.
It optimises the functions of the skin at a cellular level to help it look and act younger and healthier.
The active ingredients trigger a cascade of actions that:
Promotes new skin cells on the surface, resulting in smoother skin, reduced lines and wrinkles.
Reduces uneven pigmentation found in freckles and age spots and prevents the formation of new pigmentation.
Promotes uniform distribution of cells at the deep layers improving skin structure and evening tone.
Boosts collagen and elastin production for firmer and more resilient skin with fewer lines and wrinkles.
Improves circulation and nutrient supply for natural hydration and healthy glowing skin.
---
The Nu-Derm System Includes:
Obagi Gentle Cleanser – a soap-free cleanser for all skin types, especially sensitive and dry skin or Obagi Foaming Gel Cleanser – for oily to normal skin types, thoroughly cleans away impurities and make-up.
Obagi Toner – uses a natural astringent that regulates the skin's PH in order to make it more open to hydroquinone penetration.
Obagi Clear – its main active ingredient is 4% hydroquinone; it blocks the production of melanin, thus reducing hyperpigmentation problems caused by excessive peeling.
Obagi Exfoderm – its main active ingredient is a mild acid called phytic acid – it makes normal to dry skin peel even further or Obagi Exfoderm Forte – another exfoliating product based on AHA's – glycolic and lactic acids; it's designed to increase penetration of hydroquinone in normal to oily skin.
Obagi Blender – the product has 4% hydroquinone and is mixed with a tretinoin-based cream.
Obagi Sunfader – a SPF15 sun blocker with 4% hydroquinone.
Obagi Healthy Skin Protection SPF35 – it has 9% micronized zinc oxide to protect against UVA rays linked to deep, premature ageing.
While on the Obagi Nu-Derm system we recommend the Obagi Professional-C 10% Serum with Vitamin C, which protects the skin from free-radical damage, is anti-inflammatory and hydrated the skin.
---
How do I use the Nu-Derm system?
Prepare the skin by cleansing and toning:
Cleansing and toning makes your skin more receptive to the correction process.
Apply the cleanser recommended by us, either GENTLE CLEANSER or FOAMING GEL to wet skin, rinse with lukewarm water and gently pat dry.
Avoid rubbing the skin with a towel.
TONER 2 apply to the entire face with a cotton ball or cotton square, avoiding the eye area.
Correct – Repairs damage to the skin's surface, correcting hyperpigmentation (sun and age spots) and uneven skin tone while smoothing skin roughness.
10% SERUM
If recommended, apply to the face, neck and chest area (10% Serum).
CLEAR 3 apply Clear evenly on the entire face, extending to the hairline.
EXFODERM or EXFODERM FORTE 4 apply evenly over entire face, avoiding the eye area. Wait until the cream is absorbed.
Stimulate – Damage to the deeper skin layers is repaired. Skin elasticity is restored by enhancing the production of collagen and elastin.
BLENDER and TRETINOIN
Apply 1/2 gram of Blender mixed with the prescribed amount of tretinoin. Apply evenly on the entire face, extending to the hairline. 5 (Rx only)
Protect – Prevent further damage from harmful UVA and UVB rays.
Apply HEALTHY SKIN PROTECTION SPF 35, SUNFADER SPF 15, or PHYSICAL UV BLOCK SPF 32 as instructed.
Note: Prolonged sun exposure should be avoided for the first month.
---
What should I expect during treatment?
You can expect to experience four phases as you undergo transformation to a more healthy and younger-looking appearance. The length of time between the phases will vary based upon multiple factors including age, skin type, amount of damage and compliance.
Initial phase – The damaged top layer of skin is replaced by a new layer of fresh, healthy skin cells. This process takes approximately 6 weeks.
During this phase, you can expect to experience one or more of these symptoms:
freckles, age spots and dark patches begin fading
exfoliation and flaking
redness and dryness
wrinkles and acne may look worse temporarily
These reactions are indications that the treatment is working. It is absolutely necessary to stay with the program to see these results.
Stimulation Phase – 6 to 12 weeks. You begin to notice significant improvements in your skin. New skin cells continue reaching the surface and the production of collagen and elastin increases. Expect to notice:
wrinkles begin to reduce
tightening of pores
further lightening of freckles, age spots and dark patches
subsiding redness and flaking
Healthy Glow – 12 to 18 weeks. In this phase, your friends will begin to notice your skin. Your skin will look and act younger and healthier. Your skin is:
firmer and more resilient
more even colour and tone
smooth and naturally hydrated
Maintenance
To keep your skin looking and acting younger and healthier, you will want to continue to use the Obagi Nu-Derm System to maintain the improved results you have achieved. By continuing with a maintenance protocol, you can expect to:
Maintain healthier, younger-looking skin for a lifetime
Prevent future damage
Improve anti-ageing effects
---
How much does it cost?
A consultation and skin analysis with Dr Teri Johnson will cost £25, but this is deducted from the cost of your treatment package if you decide to use the Obagi Nu-Derm system.
The small starter kit costs £390, but this will also include your first tube of tretinoin prescribed by Dr Teri and the Obagi hydrate moisturiser.
The larger kit will cost £560 and will include your first tube of tretinoin prescribed by Dr Teri.
The price includes a review with our Obagi Ambassador every 6 weeks or when needed. We also provide telephone advice 7 days a week.
You will need to purchase further products later on during the programme, we will give you advice about the prices at the time of your consultation.
Find out how to book an appointment for a consultation here.
---